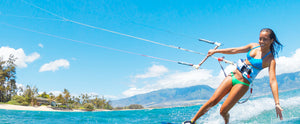 Kitesurfing Lessons
Hydrofoil Lessons
Kitesurfing Gear
Wingfoil Lessons
Kitesurfing Gold Coast
Learn to Kitesurf safely in beautiful locations around the Gold Coast with one of our IKO certified kitesurfing instructors.
Teaching is our main focus. We are not happy until you are up and riding with a big smile.
Gold Coast Kiteboarding is one of Australia's longest running kitesurfing schools, established in 2000. After 20 years of receiving great feedback from our students, we believe that our course structures and teaching methods are second to none!
Why Choose Gold Coast Kiteboarding
Experienced Instructors
All of our kitesurfing instructors are fully accredited by the International Kiteboarding Organisation (IKO) or Kiteboarding Australia (KA) and have a broad base of knowledge in the latest teaching methods for wind and water sports.
Safe and Fun
Kiteboarding is a fun sport, guaranteed to put a smile on your face. We take this philosophy into our lessons from the beginning to make sure you have a god time whilst learning. We use boat support and radio helmets to ensure your safety.
Great Locations
We offer kitesurfing lessons in a number of beautiful locations around the Gold Coast. We choose the most appropriate location based on the current weather and your level of skill, as you progress through your kitesurfing journey.
Shop Online
The latest Kitesurfing Gear and Hydrofoils. Australia wide delivery and great backup service.